Has South Africa's ANC forgotten its liberation roots?
(Read article summary)
Many South Africans worry that the African National Congress, which is considering a restrictive new media law, has lost sight of its founding principles.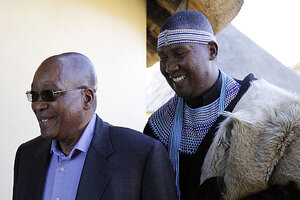 Siphiwe Sibeko/Reuters
Liberation movements have proved, especially in Africa, to be double-edged swords. Yielded typically by a relatively small group of liberators and backed by the masses, they scythe down opposing colonial governments and sweep to power amid much fanfare.
That, according to William Gumede (author of "The Democracy Gap: Africa's Wasted Years," and "Thabo Mbeki and the Battle for the Soul of the ANC"), gives them a cloak (albeit temporary) of invincibility. Mr. Gumede says that citizens of Africa raise the leaders of liberation movements to godlike untouchability and that the leaders take it as a license to plunder unchecked.
While most will flat out deny genuflecting or making the gesture of the cross in prayer to Jacob Zuma and his government for the better life that was promised, it cannot be denied that lately, the African National Congress (ANC) has been godlike – working in mysterious ways and leaving prayers seemingly unanswered; the latter resulting in violent and widespread service delivery protests a few months before the country hosted the World Cup.
---