Top LRA commander moves to southern Sudan
(Read article summary)
Officers from the southern Sudanese Army allege the Khartoum government is supporting the Lord's Resistance Army in return for launching attacks in the south.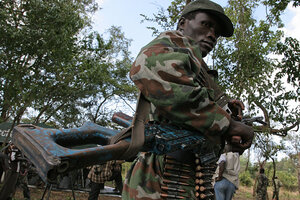 Stuart Price/AFP/Getty Images/Newscom/FILE
Testimony from former Lord's Resistance Army (LRA) fighters who were recently captured near Yambio in Sudan's Western Equatoria state indicates that a notorious LRA commander, Dominic Ongwen, recently crossed into Sudan from the Democratic Republic of Congo.
Ongwen, who was indicted by the International Criminal Court for crimes against humanity and war crimes in 2005, is part of the LRA's top leadership, second or third in command after leader Joseph Kony.
One of Ongwen's "wives," who was captured by the Ugandan Army in July, said that the LRA group had moved to Western Equatoria state. Unlike in the past where LRA fighters attacked southern Sudanese towns from bases in Congo, Onwgen's group is now based in Western Equatoria state.
---