Alice Walker and the caricatured view of Africa
(Read article summary)
American author Alice Walker came to South Africa last week to talk of her 'connection to the South African soul.'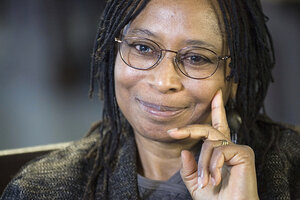 John Amis/AP/FILE
In what she called a conversation (which was actually the 11th annual Steve Biko Memorial Lecture), Prof. Alice Walker spoke about her experiences of and in Africa. It wasn't in that usual "Africa is a beautiful country" kind of way, but it exemplified what I think is a view of Africans, black Africans, held (mostly) by some black Americans:
"Africans are a warm, beautiful, lovely, and generous people."
They are the kind of black Americans who may kiss the ground on their first visit to the continent (I've actually seen this) and proclaim to be home. They probably have been wearing dashikis all their lives and may have been at some point (or currently are) called by some other very "African" sounding name that was not theirs at birth. And into this group of black Americans I count Professor Walker.
Her conversation was entitled rather chattily, "Been coming to see you since I was five years old – an American poet's connection to the South African soul." And while warm, lovely, and generous can be flattering adjectives, I found Walker's application lazy, not flattering. She travelled to Uganda and met the warm, lovely, generous African. In Kenya, the same African was there, too. This African also followed the professor to South Africa. I am tempted to suggest that this warm, lovely, and generous African existed nowhere else except in Walker's mind. She came home, she came to the motherland carrying caricature of an African and she dressed every black person she met in it, perhaps without ever having experienced each individual genuinely.
---