Obama amps up intervention to prevent Sudan war
(Read article summary)
President Obama's meeting with Sudanese leaders this week will set the stage for whether this US administration is seen as a credible arbiter between rivals in the north and south of Sudan.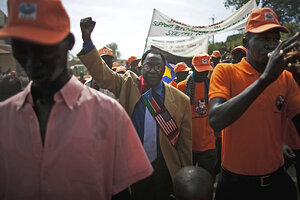 Pete Muller
After coming under intense pressure from Sudan advocates – from grass roots across the US to Sudan watchers in Congress to proponents within the Obama administration of a tougher stance – administration officials laid out a series of incentives to entice Sudan's ruling National Congress Party to allow a credible referendum in the south and make postreferendum arrangements with the southern semi-autonomous government. If preparations stall, or if the NCP meddles in the referendum or its aftermath, Khartoum could face additional sanctions.
The substance of the offer may not be much different from what the Obama administration has put forth all along; the incentives and pressures alluded to by State Department officials at the unveiling of the new Sudan policy last year were never made public. And again, the incentives part of the package has been emphasized over the pressures. But who is doing the offering is significant.
This past week has seen a blitz of meetings and interviews on Sudan from top Obama administration officials. Secretary of State Hillary Clinton and National Security Adviser James L. Jones made phone calls to Sudanese leaders to press for movement on negotiations. Fresh from a trip to the north and south, the president's special envoy briefed reporters at the State Department, calling it a "make-or-break period for Sudan."
---