More reports of Rwandan troops deploying to Congo
(Read article summary)
In recent weeks, there have been many unconfirmed reports of Rwandan troops heading into the Democratic Republic of the Congo to assist the Congolese army.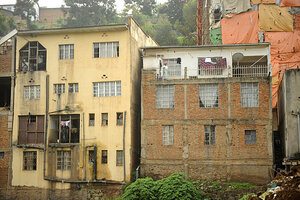 Mary Knox Merrill/Christian Science Monitor
There have been more and more reports of Rwandan troops in the Kivus this past week. Internally, MONUSCO military intelligence has reported unconfirmed allegations of two RDF battalions in Walikale to help out with the Congolese army's operations there. The head of the UN mission, Roger Meece, however, says these allegations are unfounded.
At the same time, the Congolese security services along the Rwandan border in North Kivu report an increased number of Congolese Tutsi refugees returning from Rwanda and heading towards the highlands of Masisi.
Add to these rumors information coming from an unexpected source: CNDP officers. Several ex-CNDP officers have confirmed these allegations of RDF deployment, however they don't think they are here to help against the FDLR. According to them, the Rwandan troops have primarily come to make sure that CNDP troops don't rebel when they are re-deployed outside of the Kivus (some say as far away as Bas-Congo, on the other side of the country). There has been no official announcement of any major military re-deployment, but many believe this was discussed by Presidents Kagameand Kabila during the recent meetings in Kigali.
---