South Africa strike sends students beyond the classroom to learn
(Read article summary)
South Africa's strike by teachers has prompted students to fall behind in preparations for exams. They're turning to mobile phone programs to catch up.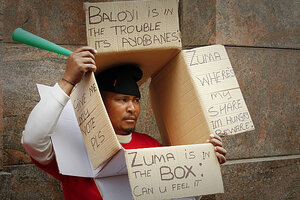 Mike Hutchings/Reuters
Turn on your cellphone and the lesson will begin.
That's the unusual instruction given to thousands of school children in South Africa who have turned to mobile handsets to plug gaps in their math curriculum after a nationwide strike by teachers.
The bitter three-week strike by teachers and other civil servants over pay ended three weeks ago. However, students have protested across the country, complaining they did not have enough time to prepare for exams.
An estimated 12,000 students are downloading study materials from the popular mobile phone platform and messaging service MXit to bolster their chances of graduating in a month's time.
The initiative was devised by the Council for Scientific and Industrial Research, a government-backed body which carries out scientific and technological development. Students can download material from the site as well as exchange information and messages with tutors.
The CSIR's Laurie Butgereit said it was the ideal platform to help students outside of lesson hours.
"MXit is cheap and efficient. It is a perfect opportunity for South Africa to roll up its sleeves and help final year students," she said. "Dr. Math is currently helping 12,000 learners on MXit, but we could be helping so many more if we had additional volunteer tutors."
---