Wal-Mart could lead corporate America into Africa
(Read article summary)
Wal-Mart's potential acquisition of a South African company is a financial move that most companies have been too scared to make.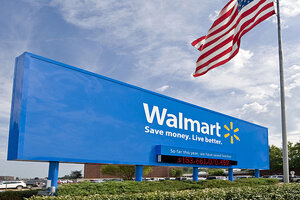 Wal-Mart Stores, Inc./AP
Wal-Mart has announced that it is prepared to pay approximately $4.2 billion for Massmart Holdings. Massmart Holdings is a Johannesburg-headquartered chain of discount superstores with a grand total of 290 stores in 13 African countries under brand names such as Makro, Game, and Builders Warehouse. Massmart stores can be found as far away as Ghana and Nigeria and there are stores even in President Mugabe's Zimbabwe.
Massmart would serve as "a fantastic entry point to a broader part of the continent," said Andy Bond, a former CEO of Asda and the man apparently spearheading the purchase. This acquisition, if completed, will be the biggest acquisition undertaken by Wal-Mart in 10 years – and of all places, it's in Africa. For markets, this could be a game changer, and I venture there are many computer screens in trading floors around the world tracking this transaction very closely.
For quite some time, I have felt that corporate America was missing the Africa story. Like tourists frightened off by rumors of lions prowling the city streets of Nairobi or Lagos, America's corporate sector has been bamboozled and bogged down in an old African landscape where the only opportunities are to be found in digging up raw materials, and the greatest challenges are with intractable or corrupt government bureaucrats. To be sure, that African landscape still exists, both in mind and in reality.
---