Kenyan whistleblower commemorated in a book
(Read article summary)
A Kenyan whistleblower who exposed the largest financial scandal in Kenya is the subject of the book, 'The True Story of David Munyakei,' which will be showcased next week in the US.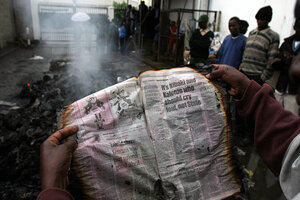 Thomas Mukoya/Reuters
Last year, I wrote about a new book on a Kenyan whistleblower, written by a British journalist. A reader pointed me to Kenyan writer Billy Kahora, who'd also just published a book, locally, about a Kenyan whistleblower – in fact, the man who, as Kahora tells it, exposed Kenya's biggest-ever corruption scandal. The book, The True Story of David Munyakei, is one of the few creative nonfiction books in Kenya, where media is driven by profit and investigative space hardly exists. Hmm... starting to sound familiar?
Kahora is a driver of Kenya's literary scene. He's the managing editor of Kwani?, home to fabulous work by African writers, and wrote the script for Soul Boy, a new film by Run Lola Run director Tom Tykwer. He has degrees in journalism and was a 2007 Chevening Scholar at the University of Edinburgh.
---