South Sudan referendum complicated by oil revenue
(Read article summary)
The South Sudan referendum will likely end in an overwhelming vote for independence, but Sudan is reluctant to give up claims to southern Sudan's oil wealth.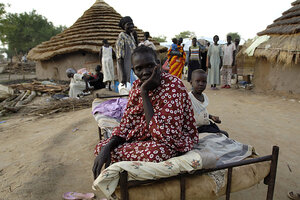 Tim McKulka/Reuters
I have visited Juba twice this year. The second time President Omar Bashir – a man on the most wanted list of the International Criminal Court in The Hague – was in town for the celebration of the Comprehensive Peace Agreement and I was quick enough on the draw to take this picture. My Sudanese companion was seriously unhappy with my photography. The SPLA may have turned into a functioning ruling party in south Sudan, but it still roams Juba like a rebel army and the reasons for that are no secret.
President Bashir made a speech in Juba where he said that if the South elected for independence this January, during the South's planned referendum, he would be the first to congratulate President Salva Kiir. It was hardly reported anywhere but I heard him loud and clear. I remember turning to my companions, all of whom were in the government of Southern Sudan. They were unimpressed.
"Aly-Khan, we are Bashir's back garden," one of my companions said. "We have most of the wealth." They certainly have most of the oil, an estimated 80 percent of proven reserves, and they are taking a haircut on their share in the current 50-50 split of oil revenues. "Now how does someone agree to just letting their back garden go?"
---