Nigeria explosion: Independence celebrations marred by violence
(Read article summary)
The Nigeria explosion prompts blogger Jeremy Weate, an Abuja resident, to wonder if there's anything to celebrate on Nigerian Independence Day.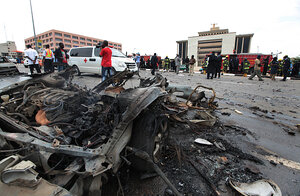 Felix Onigbinde/AP
Last night we had a group of friends round for dinner to celebrate my forty-first birthday. Without trying to sound smug, I am fortunate to count some keen minds as mates, who never fail to impress in their analysis of their beloved country, Nigeria. But, just now, it seems that no one really knows what is going to happen – both with the elections, and more generally, with Project Nigeria. After the party, at midnight, we headed down to the area near Millennium Tower, a half-completed building site near the National Mosque. From behind razor wire, we looked on at the celebrations an invited few dignitaries were privileged to watch. I was filled with a sense of sadness that yet again, ordinary Nigerians were being excluded from the main event.
At 10 this morning, still a little blurry from the night before, the alert came in on my Twitter client (from NEXT) that Jomo Gbomo, the mythical spokesman from MEND, had said that there would be bombs in and around Eagle Square at 10:30. I retweeted the NEXT message. A few others did the same. In the following few minutes, the general sense was that it was more hot air and blather from a weakened organisation. I reminded myself at the same time that Henry Okah's house in Jo'burg had been raided the day before by South African police on a tip off from Nigeria. I speculated that the two events might be connected. Then, I left it and went to make coffee.
At 10:15, a friend called, and told me both the UK and US Embassies were issuing warnings to stay indoors among their staff and expats. The message was that the threats were both real, specific and credible. I decided to put off a jaunt into town to take pictures of Nigerians celebrating Independence. The Twitterverse started to hot up. I tweeted that there was a heightened security alert among the diplomatic corps. Still there was scepticism that anything would happen.
---