In Congo mass rapes, UN guilty of negligence, not complicity
(Read article summary)
A report on the Congo mass rapes this summer makes it clear that while UN forces in the area were guilty of negligence by not knowing enough to stop the events, they did not play a direct role in the mass rapes.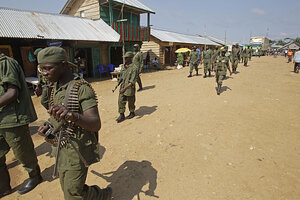 Schalk van Zuydam/AP
There has been a lot of talk about the mass rapes that took place in Walikale (in the Democratic Republic of the Congo) in late July and early August. I only now got around to reading the MONUSCO report, which I have posted here in French. It's pretty graphic in parts – the attackers apparently searched the women's body cavities for gold and money before raping them. Some of the women were bitten by snakes in the forest during the rape. The report says 303 people were raped – 235 women, 15 men, 52 girls and three boys. Awful.
The report says the locals do not believe the rapes were not directly linked to getting access to minerals, as has been suggested elsewhere. Instead, they think the FDLR (Democratic Forces for the Liberation of Rwanda, who made up the majority of the attackers) wanted to punish the villagers for "collaborating" with the Congolese army units that had been deployed there. It's tough to say, but I have heard other reports suggesting that there had been an ambush against the FDLR a few days before in which several of their soldiers had been killed.
MONUSCO does not come off well in the report, but it is a case of criminal negligence, not active complicity in the massacre. Their base did not have an interpreter, did not patrol at night and did not make the necessary effort to find out what was happening when they first heard of the violence. But it does not appear that they knew the extent of the violence.
---