Botswana president wants Zimbabwe sanctions lifted
(Read article summary)
Lifting sanctions on Zimbabwe would encourage further reform, says Botswana President Khama, formerly a vocal critic of Zimbabwe President Mugabe.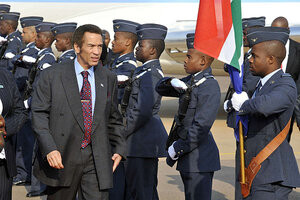 Reuters
Johannesburg, South Africa
When Botswana President Ian Khama asked the West to lift targeted sanctions against Zimbabwean President Robert Mugabe and his cronies, he was not the first African leader to do so. But given that Mr. Khama is one of President Mugabe's fiercest critics, his call for a lift of sanctions took many diplomats and activists by surprise.
In his two-day visit to South Africa midweek, Khama called upon the Western world to withdraw the travel restrictions on Mugabe and his inner circle, a call initiated by South African President Jacob Zuma, saying, "We appeal to those who have placed sanctions to remove them in order to give motivation. There is goodwill expressed by both sides, even if there are concerns. We also have concerns but let's remove them (sanctions) to demonstrate good faith and see where we go from there."
What has made Khama change his tune all of a sudden?
Professor Tinyiko Maluleke, executive director for research at the University of South Africa, said the sudden change could be because Botswana wants more trade with South Africa.
---