Using US troops to arrest LRA leader Joseph Kony is a bad idea
(Read article summary)
LRA leader Joseph Kony should be arrested, but its not as easy as sending in US troops, which are not likely to be welcomed by locals, writes guest blogger Laura Seay.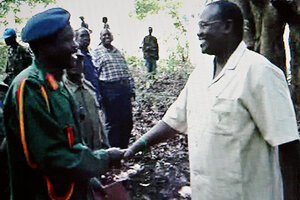 Reuters TV
This is not a good idea:
... There is no better case for the humanitarian use of force than the urgent need to arrest Joseph Kony, the ruthless leader of the Lord's Resistance Army (LRA), and protect the civilians who are his prey. And far from requiring a non-consensual intervention, Kony's apprehension would be welcomed by the governments concerned.

The LRA began as a rebel movement in northern Uganda, but it now terrorizes the civilian population of northern Democratic Republic of the Congo as well as southern Sudan and the Central African Republic. Its cadre often descends on a remote village, slaughters every adult in sight, and then kidnaps the children, some shockingly young -- the boys to become soldiers slinging AK-47s, the girls to serve as "bush wives." Over more than two decades, many thousands have fallen victim to these roving mass murderers.

The International Criminal Court has issued arrest warrants for Kony and other LRA commanders, charging them with war crimes and crimes against humanity, but the court depends on governments to make arrests.

So far Uganda has done the most to pursue the LRA, but ineffectively. The LRA is not large -- an estimated 200 to 250 seasoned Ugandan combatants, plus at least several hundred abductees -- but as Ugandan President Yoweri Museveni recently told me, Uganda lacks the special forces, expert intelligence, and rapid-deployment capacity needed to stamp out this enemy.
---