George Clooney and the potential of celebrity power to avert civil war in Sudan
(Read article summary)
Journalists tend to roll their eyes when a Hollywood star arrives in a refugee camp, calling for action. But when celebrities bring global attention to a distant and confusing conflict, and when they call for sensible diplomatic action, their star power may actually do some good.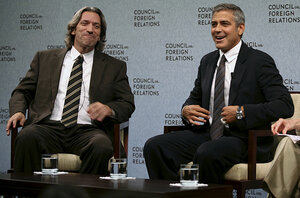 Molly Riley/Reuters
Johannesburg, South Africa
So, I got an email from George Clooney this week. Yes, that George Clooney. He wanted my help to prevent the outbreak of civil war in Sudan. It seems Mr. Clooney was busy this week. Many of my friends – all foreign correspondents – got the same email. My wife had the email laminated, nevertheless.
It's easy to dismiss celebrities who get involved in political activism. I actually admire Clooney for his obvious dedication to this cause, and for his willingness to travel long distances for the pleasure of swatting mosquitoes in some dusty African refugee camp. If Clooney can use his star power to focus the world's attention, for at least a moment, on a faraway humanitarian catastrophe, then he deserves admiration.
Imagine if Humphrey Bogart or Jimmy Stewart had taken a documentary film crew to Hitler's Germany in the late-1930s and confronted us with the truth about the roundup of Jews, Gypsies, gays, and others. Perhaps it would have created an upswell in citizen activism that would have demanded the US to take action. Perhaps some innocent lives could be saved.
"We have a brief window of opportunity to do something that has rarely been done: stop a war before it starts," read the e-mail from Clooney and John Prendergast, cofounder of the Enough Project, an antigenocide lobby group. "But if the international community is too hesitant or too late in its efforts – as was the case in Darfur – hundreds of thousands could die."
---