Niger arrests members of junta for potential coup plans
(Read article summary)
The arrest of officers from Niger's military junta could complicate the junta's attempts to return Niger to democracy.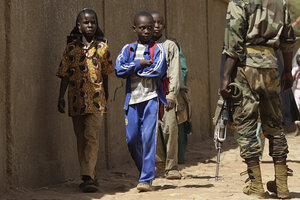 Rebecca Blackwell/AP
Over the last week the military junta in Niger arrested several top officers. Reports emerged that those officers had been planning a coup. Coming shortly before a planned Oct. 31 referendum on a new constitution and only a few months before new elections on Jan. 31, the incident could trouble Niger's plans to return to democracy. The divisions within the military also suggest that some top officers in Niger do not view the military simply as custodians of democracy, and on the contrary desire a longer-term role for the military in government.
Reuters (linked above) has details on the arrests:
Abdoulaye Badie was the second-in-charge of the junta and Abdou Sidikou was a top commander in the national guard. There was no immediate comment from either officer.

The junta, led by General Salou Djibo, has been in power in Niger since a dramatic February putsch against former President Mamadou Tandja who had angered many Nigeriens for altering the constitution to lengthen his rule.

Djibo has since won international plaudits for pledging a return to civilian rule within one year.

An official at West African regional bloc ECOWAS said on Friday he was aware of rumours of arrests within the junta but had been assured by Djibo the talk was unfounded. The junta has not commented publicly.

A senior police official told Reuters Badie and Sidikou were arrested for having planned to unseat Djibo in September during his trip to the United Nations General Assembly in New York. He did not say how the alleged plot was discovered.

Djibo has also sacked his minister of equipment, Amadou Diallo, according to an announcement on national television on Friday. No reason was given.
---