Rwanda is no US when it comes to press freedom – but it's also no Somalia
(Read article summary)
Rwanda got a bit of a raw deal to be ranked near the bottom of Reporters Without Borders' annual press freedom list this year, says guest blogger Jina Moore.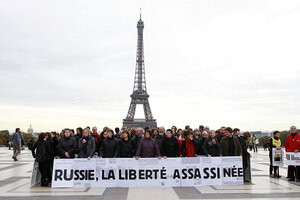 Jacky Naegelen/Reuters
The press freedom index of Reporters Without Borders (RSF) is bound to cause a stir among Rwanda-watchers. The Paris-based group called Rwanda among the 10 worst violators of press freedom in the world, right along with North Korea, Burma and Iran. It's also the third-worst in Africa; only Eritrea, where there basically aren't any journalists who aren't in jail, and Sudan are worse. Even Somalia ranks better than Rwanda.
I'm not sold. Here's why.
Let's get the genre objections out of the way first. I'm not a big believer in indices. They usually feel more like media gimmicks than analytical tools to me. But everybody loves lists – and sometimes, people like to be on them. Show me a list with an air-tight methodology, and I'll call you a liar. (The RSF methodology seems to me pretty wanting, but if you're the same kind of nerd as I am, you'll check out their questionnaire, scoring sheet, and sparse methodological explanation and decide for yourself if you're satisfied.)
---
Follow Stories Like This
Get the Monitor stories you care about delivered to your inbox.