Dormant Western Sahara threatens to heat up
(Read article summary)
The Western Sahara, a piece of disputed territory settled by Morocco that separatists would like to see independent, seems calm, but dissatisfaction is growing in refugee camps.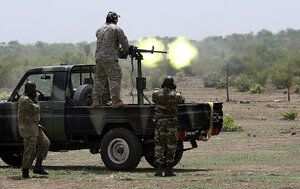 Alfred de Montesquiou/AP
For 20 years, there has been something like peace across the Western Sahara, a 700-mile stretch of sparse desert seaboard that two or three countries have claimed as theirs at times, although none are actively warring for it at the moment.
Much of that calm is a result of a 1,700-mile wall of compacted sand – something like a Great Wall of West Africa – that Moroccan settlers (referred to by some as occupiers) built to keep out the desert-bound rebels who'd like to administer this land as a free nation.
Even more of that peace is thanks to how few war-worthy commodities this rocky backcountry contains, aside from intimations that there might be oil. No diamonds, no copper, no gold.
But two decades after the United Nations wrestled Moroccan leaders and local rebels into a ceasefire, the status quo has devolved into what Western Sahara's UN Special Envoy Christopher Ross describes as "unbearable."
"This is an intense situation," concurred Abdel Hamide Siyyame, the former spokesperson for the UN mission to the rebel front.
Leaders from Polisario, the Algerian-backed separatist movement, are penciled in to meet with Morrocan delegates for a round of informal talks in November, that Siyyame despairs are unlikely to accomplish anything without more international noise.
---