UN Darfur visit could endanger locals it aims to protect
(Read article summary)
Guest blogger Laura Jones of the Enough Project questions whether the UN visit to Darfur, which was followed by the government's arrest of those the UN met with, hurt more than it helped.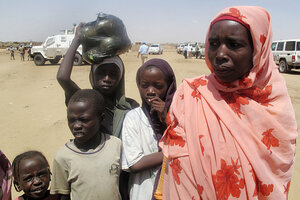 John Heilprin/AP
Immediately following the UN Security Council's recent two-day visit to Sudan's western region of Darfur, sources on the ground reported that Sudan's National Intelligence and Security Services, or NISS, was pursuing a number of people who had met with the Council. The drama that transpired as a result of the UN's high-level visit prompts important questions about how to raise awareness without putting individuals in danger in a volatile place like Darfur.
As part of its visit to El Fasher (the capital of North Darfur), the Council met with groups of internally displaced people, or IDPs, to discuss a range of issues including ongoing insecurity, humanitarian conditions, lack of access to justice, and abuses by NISS. According to reports, shortly after the Council's departure, NISS began searching Abu Shouk and Al Salaam IDP camps for 16 people who had spoken to the Council. Although these individuals were able to evade arrest, NISS succeeded in locating and arresting five others, including Abdullah Ishaq Abdel Razek, who heads one of the camp's nutrition programs and was seen interacting with Council members in the market of Abu Shouk.
---