South Sudan uses oil money to maintain patronage networks
(Read article summary)
South Sudan, which remains less-developed than much of the north, is using revenue from its vast oil resources to shore up unity with local leaders, rather than development efforts.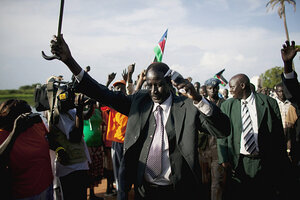 Pete Muller/AP
"The people of Unity state are the victims of its politics," said a Southern Sudanese man I met on a recent reporting trip to Unity state. Some in Southern Sudan joke that this oil-rich state, which borders northern Sudan, was given its name after the signing of the 2005 peace deal that ended decades of war because Khartoum hoped that unity would be the outcome of the January 2011 southern self-determination vote. Khartoum stands to lose a great deal from southern secession; to be specific, if the southern referendum ends in separation, as is widely predicted, the northern government could lose the lion's share of its GDP, which comes from revenues from the oil fields located in Southern Sudan. So retaining access to the resources in Unity state is indeed a priority for Khartoum.
But the semi-autonomous government in the southern capital Juba has equally important reasons for needing to continue profiting from its oil resources. Aside from the fact that oil constitutes more than 98 percent of the South's budget, the South's ruling party is a precarious position and, like Khartoum, needs funds to sustain its political and military patronage networks.
"Every politician has been made happy by the Unity state government's resources," continued this man, referring to the infamous "2 percent" allocated to this government according to the terms of the 2005 peace deal. Two percent of Sudan's oil revenues go directly into the coffers of this state government, a sum that amounts to millions of US dollars per month. Yet the sprawling town of Bentiu feels more like a collection of small mud hut villages than the capital of a state with a hefty budget. Streetlamps line the one paved road, which runs for not more than a few kilometers and terminates near the governor's residence, but I never saw them illuminated at night. The few small restaurants open at night stay a lit by noisy generators.
---