Resolution 1325: What the UN can learn from the women of Burundi
(Read article summary)
On the tenth anniversary of UN Security Council Resolution 1325, guest blogger Jina Moore analyzes its impact in Africa and says that while concrete progress is minimal, it has changed the conversation.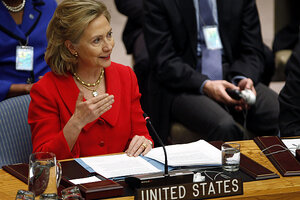 Jessica Rinaldi/Reuters
If you've never been to a birthday party for a UN Security Council resolution, well, get out your party shoes. Today is the tenth anniversary of UN Security Council Resolution 1325, and the party guest du jour is Hillary Clinton, who is slated to address the council today.
So what's 1325, and why all the fuss? There are two ways of looking at it. One is that it's just another resolution from a body whose importance is pure pomp and whose resolutions rarely change the real world people live in. Another is that it's a major step in gender advancement and equality, both inside and outside the UN, that could usher in a new era for women worldwide.
Both of those are too extreme. But 1325 is inarguably a benchmark. The resolution urged the involvement of more women as chief mediators in peace processes and in high positions at the UN, called for gender perspectives to be incorporated in peacekeeping missions and peace negotiations, and demanded the protection of women and girls in war zones, among other things.
The trouble is, of course, most of this didn't happen, or happened too slowly or ineffectually. Ten years later, women's groups like the NGO Working Group on Women, Peace and Security are taking stock of 1325 and subsequent resolutions (check out the just-released report on their home page), including a tougher measure passed two years ago demanding accountability for crimes committed against women and girls, especially rape.
So these days are full of recommendations for better implementation – or, the cynics might say, implementation at all. But before we wallow in despair (or gloat), here's something worth thinking about: whatever the failures of these 10 years, this language matters.
---