Without Sudan, it will be impossible to successfully confront the LRA
(Read article summary)
Sudan has not been included in meetings to discuss ways to fight back against the Lord's Resistance Army. This is a missed opportunity, says Ledio Cakaj, a guest blogger from the Enough Project.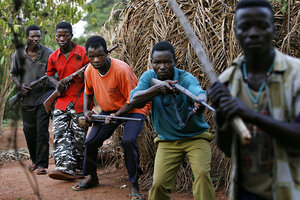 Finbarr O'Reilly/Reuters
Meeting in Bangui, the capital of the Central African Republic, CAR President Francois Bozize and representatives from Uganda, Congo, and South Sudan worked to find a regional solution to the Lord's Resistance Army. The meeting took place on October 13 and 14 under the auspices of the African Union.
The participants agreed to a series of anti-LRA measures designed to increase military cooperation between the armies of Uganda, South Sudan, Congo, and CAR, according to press release issued by the African Union (Here it is in French). A joint command center aimed at exchanging information, joint border patrols, and a mixed military brigade to go after LRA groups are some examples of the military cooperation agreed to in Bangui. In addition to calling for humanitarian aid to LRA-affected areas, participants proposed nominating an AU special envoy to coordinate efforts against the LRA.
---