Congo's democratic elections threatened by lack of aid
(Read article summary)
The Democratic Republic of the Congo is gearing up for the 2011 election, but a lack of foreign aid – prompted by dissatisfaction with its human rights record and increasing violence – could prevent implementation of democratic safeguards.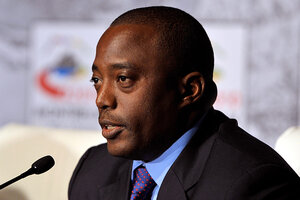 Dominic Favre/AP
Just a few months ago, President Kabila's outlook wasn't too bad. He had achieved debt cancellation, freeing up a substantial amount of money in his budget, he had made (tentative) peace with his longstanding external rival Rwanda, while his longstanding internal rival Jean-Pierre Bemba will be standing trial in The Hague in November. If the case of Thomas Lubanga is anything judge by, Bemba could be in the docket for quite some time – Lubanga has been standing trial since January 2009 – apparently disqualifying him from participating in the Congolese elections of November 2011.
The economy is set to grow by over 6 percent next year and the IMF continues to make rosy statements about the country's economic outlook.
Now, the mood has changed. Violence continues in the east, and there have been three briefings to the UN Security Council already in the past few months about sexual violence in particular. The cancellation of First Quantum and Tullow's mineral and oil concessions has affected investor confidence. And the death of human rights activist Floribert Chebeya – followed several months later by a similar death in prison of a Belgian-Congolese protester – has raised serious questions about the government's dedication to good governance and human rights.
His foreign donors, who so amiably had canceled $12 billion in debt in July, are now balking at the cancellations of $2.9 billion of bilateral debt through the Paris Club. The World Bank is reportedly extremely frustrated with the government's cancellation of First Quantum's mining concessions in Katanga, which had been supported by the World Bank's private investment branch, the IFC. The World Bank has allegedly suspended its project to reform the artisanal mining sector, called Promines. (The Bank's official response is that they are still going through the required bureaucratic steps.)
---