Halloween brings major elections to West Africa
(Read article summary)
West Africa has several critical votes on the horizon that could indicate whether democratic progress is substantial and real. Cote d'Ivoire and Niger both hold votes on Halloween Sunday.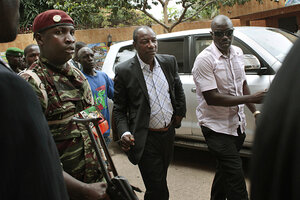 Jerome Delay/AP
Got big plans for the weekend? So does the world's most heavily peace-kept region, West Africa, where no less than three countries will tiptoe toward democracy this Sunday.
On Oct. 31, while Americans size up their appetite for candy corn, Cote d'Ivoire will hold the first national election after a decade of civil war and economic flatlining. Niger, whose military regime stomped out a coup attempt just last week, will hold a once-in-a-generation referendum on its national constitution – a referendum that doesn't just ask whether they want a strong leader or a weak federation, but also harps on more existential questions, such as whether Niger is an Islamic or secular state.
That same day, Burkina Faso will officially kick off campaigning for what incumbent President Blaise Compaoré hopes will be a fourth term in office. In the weeks to come, Guinea is expected to hold its first presidential election in 50 – as in, five-zero – years. Early next year, Nigeria will hold what might be its most contentious presidential vote in decades, then Liberia will hold just its second truly free election since the days of blood diamonds and Charles Taylor.
At the moment, Africa's western bulge hosts more UN peacekeeping missions than any other part of the planet – in Guinea, Guinea-Bissau, Cote d'Ivoire, Sierra Leone, and Liberia – but in a matter of months, many of those missions could seem quaint: Already, Sierra Leone's is set to end a year from this month.
---