African heads of state may be coming down on Sudan
(Read article summary)
A meeting between African heads of state was moved from Kenya to Ethiopia and has now been postponed. The warrant for Sudan President Bashir's arrest could be a factor.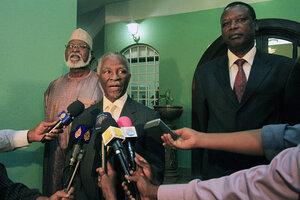 Mohamed Nureldin Abdallah/Reuters
A high-level gathering of the east African regional body IGAD (Intergovernmental Authority on Development), shifted from Kenya to Ethopia to accommodate Sudanese President Bashir, has been postponed. The meeting, focused on Sudan's upcoming referenda, was scheduled to begin tomorrow and is now tentatively planned for next weekend, according to an Enough source involved in the talks who wished to remain anonymous.
On the surface the controversy of the IGAD meeting appears as yet another gesture to undermine the ICC and flout the court's arrest warrant for Bashir, but it can also be seen as a small victory.
News of Bashir's likely attendance stirred up controversy in Kenya just two months after Kenya's constitution ceremony was overshadowed by the Sudanese president's participation. Kenya, an ICC member state, was widely condemned for allowing Bashir to travel freely for the ceremony, especially given its own ongoing ICC investigation into post-election violence. A group of more than 20 human rights and civil society organizations sent a letter to the Kenyan president and prime minister calling on Kenya to respect its obligations as an ICC member state and bar Bashir from traveling to Kenya.
"A visit by al-Bashir would run counter to Kenya's commitment to the ICC. It would also send damaging signals to victims of mass atrocity in Darfur and undermine Kenya's credibility on issues of justice," the statement said.
---