South Africa's growing trend: cynicism
(Read article summary)
Only a few months after the World Cup, South Africans' idealism has been replaced by cynicism about the country's values and a feeling that corruption is their only shared experience.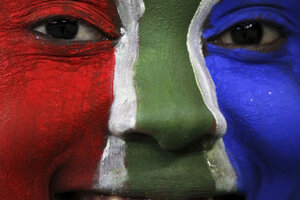 Siphiwe Sibeko/Reuters
South Africans right now if asked to list the qualities that make up the fabric of the country's society would probably recite different versions of the following: corruption, entitlement, cronyism, violence.
Of course there'd also be positives, but by and large, these more troubling responses would dominate the conversation. Only earlier this week the Centre for the Study of Violence and Reconciliation released a report that said South Africa is one of the most violent countries in the world. And in October at the launch of the Anti-Corruption Centre for Education and Research in Stellenbosch, former chairman of the Standing Committee on Public Accounts, Gavin Woods, said that corruption could become entrenched in the public sector if it was not properly challenged. It is also estimated that 80 percent of South Africans believe corruption to be the most significant impediment to the country's advancement.
This general sentiment is a far cry from that during the soccer world cup where, as a nation, South Africans felt capable of achieving just about any darn thing. Hosting the world cup focused the country on one defined, clearly articulated and measurable goal. For that one brief moment it seemed that xenophobia-related violence stopped, corrupt office bearers behaved, and criminals granted a stay. However, as with all things transient, the world cup ended and with it all the focus dissipated, leaving all the bad fully exposed.
---