Why the Twitterverse turned on South African politician Julius Malema
(Read article summary)
A spokesman for politician Julius Malema threatened to 'shut down' Twitter after fake accounts making fun of Mr. Malema surfaced. South Africans responded by making Malema, known as "Juju," one of the most popular topics on Twitter Friday.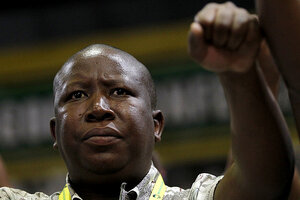 Mike Hutchings/Reuters
Johannesburg, South Africa
It was perhaps inevitable, when a prominent fiery South African politician threatened to bring down Twitter, that South Africa's growing number of Twitter-users would have a conniption.
Faced with such a threat, one prominent radio disc jockey suggested that South Africans to spend the better part of their Fridays ridiculing the politician, Julius Malema, and it seems that the Twittersphere has responded. At one point on Friday, #JujuFriday was the fourth most tweeted term.
Twitter, which restricts messages to just 140 characters, tends to encourage the sharing of headlines and snappy repartee.
This is where Julius Malema, head of the African National Congress's Youth League, comes into the story. Mr. Malema, better known for singing violent songs about shooting white farmers and throwing BBC reporters out of press conferences than for his own snappy repartee, is not known to be a frequent user of Twitter. But there are at least 22 different Twitter users out there who tweet in his name, often quoting Malema's past misstatements – or Malemapropisms, if you prefer – or simply channeling what they imagine Malema would say in a certain circumstance.
Somehow all this tweeting came to the attention of the ANC Youth League's spokesman, Floyd Shivambu, who issued an email statement promising to contact Twitter to find out who set up those fake Malema accounts and to "shut down Twitter."
From the reaction, you'd think the Youth League had threatened to nationalize South Africa's gold and diamond mines. (Well, he actually did threaten to do that, too.)
---