Zambia's champion barista strives for the perfect mix of spicy and sweet
(Read article summary)
Syria Mwanza, Zambia's champion barista, hopes to win accolades for his signature drink, which includes red chiles, ginger, cinnamon, and chocolate.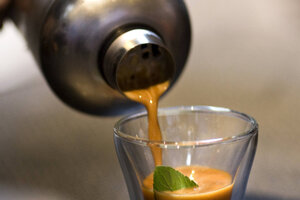 Jens Nørgaard Larsen/Reuters
Who would have thought that a good cup of coffee could be a ticket to see the world? Certainly not Syria Mwanza, an unassuming, soft-spoken waiter at the Zebra Crossings Cafe in Zambia.
But since becoming Zambia's barista champion, he's gotten his passport, traveled on an airplane for the first time, and visited Mombasa, Kenya, and London – the former for the African Barista Championships and the latter for the World Barista Championships.
"Imagine! I never thought of it that one day I'd be on a plane, going to London, just for coffee," says Mr. Mwanza, who has now won Zambia's national title two years in a row. "It's like a dream come true."
Next he's headed to Arusha, Tanzania, in February for next year's African contest. There he hopes to best his third-place finish from Kenya by "scooping first," he said. His goals for the 2011 World Championships in Bogota, Colombia, in June, are more modest – top 20. Still, it would be a big step up from London, where he finished 49th out of 53 competitors.
---