Ahead of Sudan referendum, north and south are arming a border region
(Read article summary)
One of the most critical places for the Sudan referendum is Abyei, a border region that has to decide whether to join the north or south. Expecting a confrontation, both sides are arming the area.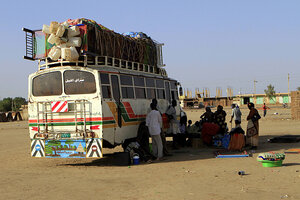 Mohamed Nureldin Abdallah/Reuters
As international mediators push Sudan's presidency toward a political agreement on Abyei in the hopes of giving the region a chance at peace, a flurry of activity is also taking place on the ground. Actors in the region are preparing for the looming Jan. 9 deadline even as the possibility of a referendum slips away – though some seemingly in anticipation of a confrontation.
Recent reports from both Africa Confidential and Small Arms Survey indicate a build-up of armed actors in and around Abyei, a region that under the 2005 peace agreement is supposed to be free of both the northern and southern armies – known as SAF and SPLA, respectively. Northern forces have reportedly gathered around Diffra, Abyei's single – and barely productive – oil field, though it is unclear whether those forces are in Abyei proper. Citing senior SPLM officials, Small Arms Survey reported that four battalions of the northern army have been deployed while according to Africa Confidential, Misseriya militias (believed by some to be armed by Khartoum) have gathered in and around the area. Diffra is a town in northern Abyei that is largely inhabited by Misseriya. The UN peacekeeping mission in Sudan is charged with monitoring military movements and maintains a team site outside of Diffra, but access to the area is often challenging.
---