How ethnicity colors the Ivory Coast election
(Read article summary)
Third-place candidate Henri Konan Bédié threw his support behind Alassane Ouattara in Sunday's Ivory Coast election, but how many from Mr. Bédié's Baoulé ethnic group actually voted for a Muslim northerner?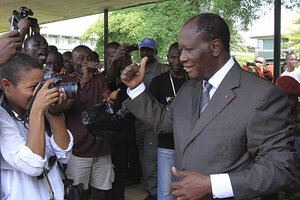 Thierry Gouegnon/Reuters
Yamoussoukro and Abidjan, Ivory Coast
Voting along ethnic lines is still a reality in the fledgling democracies of West Africa.
A glance at the results of the recent election in Guinea shows that the phenomenon is alive and strong. There, Alpha Condé, who received a mere 18 percent in the first round of voting, was able to pick up the "anyone but a Peul" vote, and rode a wave of discontent against the country's majority ethnicity into the presidency earlier this month.
In neighboring Ivory Coast, sitting president Laurent Gbagbo says he's putting an end to this kind of thinking. But his strategy of unifying Ivorians against a "foreign" adversary brings forth nationalistic passions that are often trained on recent immigrants from poorer nations to the north -- as well as lifelong citizens from the country's mainly Muslim north.
RELATED: Tense Ivory Coast vote reveals a nation divided
Mr. Gbagbo's opponent in Sunday's presidential election, Alassane Ouattara, has been disqualified from running on two previous occasions after having his Ivorian nationality called into question. But, he too, claims to rise above petty tribal politics. He ran on his record as an jet-setting economist with the International Monetary Fund; the man who can secure the financing needed to rebuild the country after it's civil war and ensuing political crisis.
---