Uncertainty about Sudan referendum is not abating
(Read article summary)
International actions and the situation on the ground both indicate that people inside and outside Sudan do not yet know what will happen after the Sudan referendum on Jan. 9.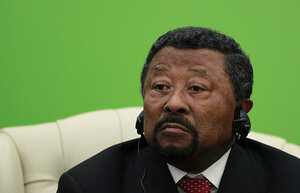 Francois Lenoir/Reuters
In thirty-nine days, Sudan will vote on the question of Southern secession. No one seems certain about what will happen before, during, or after the vote.
Internationally, concern about the potential for violence and instability in Sudan remains high. Yesterday, participants at a joint EU-AU summit in Libya adopted a resolution urging all parties in Sudan to accept the results of the referendum. This statement suggests that Europe and Africa are watching the run-up to the vote with trepidation. The resolution responds indirectly to the ruling National Congress Party (NCP)'s warning that it might not accept the results because of its objections to the Sudan People's Liberation Movement (SPLM)'s actions. The NCP's rhetoric is making other players nervous too. The Carter Center's team of monitors says that by trading accusations over the voter registration process and other logistical matters, the NCP and SPLM "are creating a climate of fear and distrust." From foreign governments to non-profit groups, much of the international community clearly worries that the NCP, or an eruption of tension between the NCP and the SPLM, could derail the chances for a peaceful and successful referendum.
---