This Week in the Great Lakes: Ben Affleck explains why Congo is worth caring about
(Read article summary)
A roundup of this week's news from Africa's Great Lakes region: Rwanda offers shares in its only brewery, Burundi sends 850 more soldiers to Somalia, and Ben Affleck talks about Congo.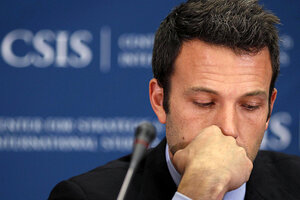 Larry Downing/Reuters
I took the American Thanksgiving holiday last Friday, so here's two weeks' worth of interesting bits from Africa's Great Lakes...
Rwanda is selling a 25 percent stake in the nation's state-run (and only) brewery, Bralirwa. The sale would mark the country's first IPO, and banks are offering loan programs specifically for those interesting in purchasing shares in the brewery.
Some genocide prisoners convicted at the Arusha tribunal will spend their sentences in Senegal. Prosecutors get 30 more days to build a case against would-be politician Victoire Ingabire.
Rwanda returns two orphaned gorillas to Congo. More farmers get access to weather-based insurance programs. The national campaign against mud huts moves slowly. 700 hotels and restaurants are slated to get condom vending machines.
---