Thabo Mbeki arrives in Ivory Coast. Can he solve the crisis?
(Read article summary)
South Africa's former president, Thabo Mbeki, arrived in the Ivory Coast Sunday to mediate a dispute over who won the Nov. 28 election.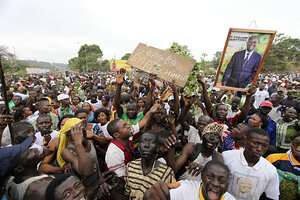 Luc Gnago/Reuters
Johannesburg, South Africa
Thabo Mbeki, South Africa's former president, has arrived in Ivory Coast's commercial capital of Abidjan to mediate a dispute over who won the Nov. 28 election. Both the former President Laurent Gbagbo and his main challenger, Alassane Ouattara, claim victory and have had themselves sworn in.
These elections were supposed to bring peace to Ivory Coast after a bloody year-long civil war began in 2002. Back then, a rebellion of soldiers from the mostly Muslim north, calling themselves the New Forces, carved their own area of control as a result of a long-felt sense of discrimination by the political elite of the Christian-majority south.
But the Nov. 28 election results were tight, and government institutions have split sharply over who won. Electoral commission officials gave the election to Mr. Ouattara, the New-Forces-supported candidate, with a 54 percent victory. A high court judge, however, threw out hundreds of thousands of votes based on allegations of voter intimidation in the north and gave the victory to Gbagbo.
---
Follow Stories Like This
Get the Monitor stories you care about delivered to your inbox.