Congress talks about the Congo
(Read article summary)
At a hearing on the Congo, time spent framing the conflict as a US national security issue would have been better spent showing ways that the US can aid resolution.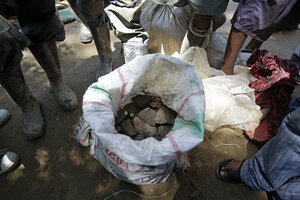 Schalk van Zuydam/AP
A somewhat strange hearing took place this week on Capitol Hill. The Terrorism, Unconventional Threats and Capabilities subcommittee of the House's Armed Services Committee had a hearing on the Congo. The aim: to see what security threats for the United States the Congo poses.
I understand the desire to appeal to the meat-and-potatoes issues that US congressmen understand, namely national security. But in the case of the Congo, this means going out on a bit of a limb. Three people were invited to give presentations: Adam Komorowski (Mines Advisory Group); John Prendergast (Enough); Ted Dagne (Congressional Research Service). I have uploaded their presentations, as the congressional page seems to be under construction.
The only piece of information that suggests threats to US national security are the links between Ugandan ADF rebels and the bomb attacks in Kampala. As argued here before, these links appear to be tenuous – while there is little doubt that the ADF, a fairly half-baked, small group based in the Ruwenzoris, has links to radical Islamist networks in the Horn of Africa, I don't think there is solid evidence linking them to the Kampala bombings.
---