Bus shortages complicate Zimbabwean migrants' hopes of going home for Christmas
(Read article summary)
Zimbabwean migrant workers in South Africa who head home every Christmas are joined this year by thousands who need to leave the country to renew their asylum status.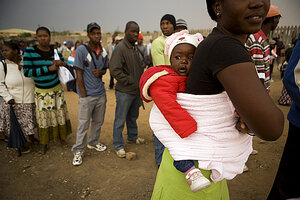 Melanie Stetson Freeman/The Christian Science Monitor
Johannesburg, South Africa
Even in South Africa, stores are adorned this time of year with holly, tinsel, and fake snow. But the real sign here that it's getting close to Christmas is when the immigrant-packed neighborhoods of Hillbrow, Berea, Yeoville, Braamfontein, and downtown Johannesburg itself start to empty out.
Thousands of Zimbabweans migrant annually from their jobs in South Africa to their homes in Zimbabwe, often bringing paychecks, gifts, and new children to meet their extended families back home at Christmastime.
This year, the Zimbabwe to which they return is likely to feel more prosperous than the one they left. A year or so of the Unity Government between President Mugabe's ZANU-PF party and Prime Minister Morgan Tsvangirai's MDC party has seen an influx of investment, a drop in the 1 million percent inflation rate, and a certain degree of political freedom.
---