WikiLeaks cables reveal US-Algeria partnership for battling Al Qaeda
(Read article summary)
The US is increasingly concerned about North Africa's Al Qaeda in the Islamic Maghreb (AQIM). WikiLeaks cables indicate it is strengthening ties with Algeria to better combat AQIM's rise.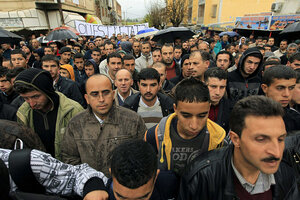 Zohra Bensemra/Reuters
Views on what Wikileaks does run the gamut from admiration to condemnation, but I share the view (articulated here) that the most important question concerning Wikileaks is not whether its staff has acted morally, but rather what impact regular leaks will have on journalism and government, now that it seems likely that regular leaks will become a fixture of the future media landscape. Put differently, some readers might object to Wikileaks' release of US embassy cables related to, for example, US counterterrorism policy in the Sahel. But now that those materials are circulating, I feel that I should analyze them in order to give readers a sense of how the conversation about the US and Al Qaeda in the Islamic Maghreb (AQIM) might evolve. Briefly, leaked cables relating to the Sahel suggest a strong US-Algerian partnership and a weaker role for Mali.
CNN has its own analysis, which stresses themes like increasing US concern over AQIM (including its potential involvement in regional drug trafficking), US approval of regional coordination, but continued mistrust among Sahelian governments. Here are some excerpts:
[The fight against AQIM] is a struggle that the United States is taking ever more seriously, according to U.S. diplomatic cables obtained by WikiLeaks…The United States has stepped up its military cooperation with governments in the region.
---