Sudan's border region sees a spark of violence
(Read article summary)
Long-anticipated violence along Sudan's border region finally sparked up recently. The Enough Project traveled to the site to ask 'Why now?'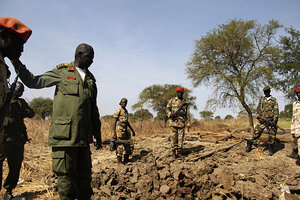 Maggie Fick/AP
Much has been made of the idea that if violence erupts in Sudan in the coming months, it will start in the border region between North and South. But when Antonovs and MiG fighter jets dropped two rounds of bombs on the village and an SPLA military installation in Kiir Adem, located in disputed territory between the South's Northern Bahr el Ghazal state and the North's South Darfur state, the incidents drew relatively little attention. The Associated Press recently filed a report from the bombing site, marking the first visit by a journalist to the area since the attacks occurred last month.
Enough traveled to Kiir Adem and spoke to SPLA officials, government officials, civilians living in the village, NGO workers living in the area, and UN sources, with the aim of compiling details about the incidents firsthand and examining some theories about why the bombardments may be happening now. A new field dispatch presents what Enough found.
---
Follow Stories Like This
Get the Monitor stories you care about delivered to your inbox.