Bashir: Sharia law will be strengthened if South Sudan votes to secede
(Read article summary)
Sudanese President Omar al-Bashir recently said that if mostly-Christian South Sudan votes to secede in a Jan. 9 referendum, the predominantly Muslim north will begin adhering more strictly to sharia law.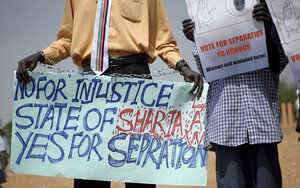 Phil Moore/Reuters
As part of my own research on Islamic law in Northern Nigeria, I've been thinking about parallels between Nigeria and Sudan: both countries have a Muslim-Christian split, both have experienced civil war, and both have implemented Islamic law to varying degrees. So I was interested to see this weekend that Sudanese President Omar al Bashir is saying North Sudan will intensify its adherence to shari'a if southern Sudan secedes in the Jan. 9 referendum.
"If south Sudan secedes, we will change the constitution and at that time there will be no time to speak of diversity of culture and ethnicity," President Omar Hassan al-Bashir told supporters at a rally in the eastern city of Gedaref.

"Sharia (Islamic law) and Islam will be the main source for the constitution, Islam the official religion and Arabic the official language," he said.
Bashir's remarks are noteworthy for two reasons, as The New York Times outlines:
---