Is Al Shabab gaining or losing ground in Somalia?
(Read article summary)
Some say that African Union troops are succeeding at pushing back Somalia's rebel movement, Al Shabab, but news reports make it unclear whether that's really the case.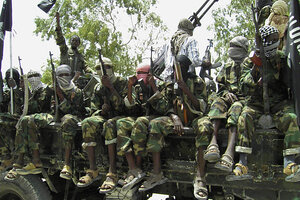 Mohamed Sheikh Nor/AP
Last week, The Economist reported that African Union troops were pushing back Somalia's Al Shabab rebel movement in the capital, Mogadishu. "The Shabab are far from beaten," the magazine continued, "yet their ability to attack government officials and their buildings has been noticeably reduced."
This week, Somali Prime Minister Mohammed Abdullahi Mohammed has an op-ed in Foreign Policy that continues to advance the idea that the AU troops, in combination with the Transitional Federal Government (TFG) are gaining ground against Al Shabab.
Earlier this year, our government controlled about a third of the capital, Mogadishu, to the insurgents' equal share. In recent months, however, our troops, in partnership with AU peacekeepers, have established control over territory that is home to more than 80 percent of the capital's population. Our forces have gone from fending off attacks against the presidential compound to actively taking ground from insurgents deep in their former strongholds, sending Islamist rebel-group Al-Shabab and their foreign leaders into retreat and disarray.
---