Concerns about Ivory Coast election prompt unexpectedly strong foreign response
(Read article summary)
Africa is rife with the kind of political failure seen now in the Ivory Coast after its election, but UN and other foreign involvement show that there is an interest in making this turn out differently.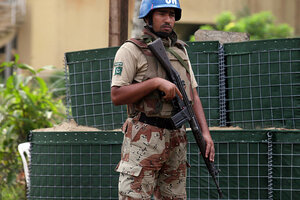 Sunday Alamba/AP
The stalemate in Ivory Coast continues: Laurent Gbagbo, having lost the recent presidential election, still won't relinquish his power over the government. And new talks today, by visiting heads of state in the region, did not persuade him to change his mind. Gbagbo is also staring down a threat from Nigeria, the largest West African country, of military action against him if he does not leave.
On the surface, the situation looks like another messy, embarassing political failure in a part of the world grown accustomed to them. But there is something different about the impasse in Ivory Coast. One thing the post-election crisis making clear: the international community cares deeply about elections and their outcomes in the sub-Saharan. The United Nations especially cares, and has done a great service to electoral reformers in the region by seating the ambasaador from Ivory Coast who represents the still unformed government of Alassane Ouatarra, the recognized winner in the country's recent presidential election. As Stephen Smith told the Voice of America's enterprising correspondent Nico Colombant, the UN's action following a disputed African election appears unprecendented. Says Smith: "For the first time that I can remember a special representative of the United Nations has called the bluff on an election, not only observing an election, but actually speaking out after the election and clearly certifying who was the winner and secondly being followed by the international community in an unprecedented way."
---
Follow Stories Like This
Get the Monitor stories you care about delivered to your inbox.