OPINION: Congo conflict minerals legislation needs to go further
(Read article summary)
The proposed legislation regulating US trade in Congo's conflict minerals lacks the specificity and oversight to fully tie the hands of US companies trading in conflict minerals.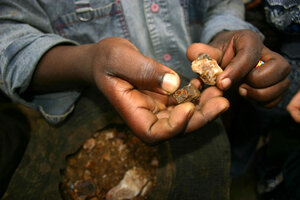 Scott Baldauf/Christian Science Monitor
As required by last year's Dodd-Frank bill, the Securities and Exchange Commission (SEC) has come out with proposed regulations for US companies trading in minerals from Congo and surrounding countries.
I have not read the whole bill – the 113 pages did not fit into my packed Christmas schedule – but a few things do spring to mind.
First and foremost, this a bill that is intended not so much to have the government regulate the mineral trade, but to provide the tools and information for concerned citizens and the press to do so. The SEC does not specify what exactly a company must do to determine whether it is sourcing its minerals from the Congo ("a reasonable country of origin inquiry") or what steps it should take to make sure the minerals coming from the Congo are not fueling conflict. It simply requires companies to say what that have done to find out from where there minerals are sourced. It would then be up to the court of public opinion to punish those companies who do trade in conflict minerals.
The SEC, however, does reserve the right to review companies' due diligence process and to judge them insufficient or unreliable. They suggest that companies could use standards such as those developed by the OECD.
---