Africa's countries are distinct entities, but their music is blending together
(Read article summary)
While people are told all the time not to think of all African countries as one entity, there's one instance where blurring the lines is accurate: popular culture, especially music.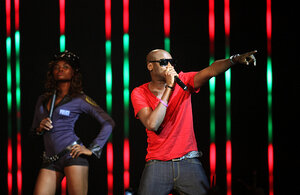 Akintunde Akinleye/Reuters
It simply doesn't do to feed the romantic, ubuntu-loving, sitting-under-a-baobab notions my continent fellows in the diaspora sometimes to have, but it's hard not to wax poetic about Africa's ever-evolving popular culture. I'm from an Anglophone country, so I'm cut off from a lot of the Zouk and Coupe Decale stuff in Cote D'Ivoire and Senegal; I'm circa early '90s on Congolese music; and Angolan hip-hop sometimes bypasses me. Kenya, Ghana, and South Africa are within my orbit, and it's just wonderful being able to see so much of what's cool outside my little cave. Everybody watches – sometimes with equal parts admiration and derision – Nigerian movies. Nigerian singers often go to South Africa to make music videos. Stars from across Africa make songs together.
Music has become the most meritocratic thing in modern Africa.
---