What would it take to remove Ivory Coast's Gbagbo?
(Read article summary)
So far, international pressure has failed to convince incumbent President Laurent Gbagbo to step down in Ivory Coast after he lost the Nov. 28 election by 8 percentage points.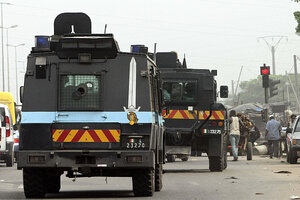 Luc Gnago/Reuters
Johannesburg, South Africa
After more than a month, the brinksmanship that has brought Ivory Coast back to civil war continues.
Two men, opposition leader Alassane Ouattara and incumbent President Laurent Gbagbo, claim to be president. Most electoral observers, the country's electoral commission, the United Nations, and most world leaders (aside from Zimbabwe President Robert Mugabe) have proclaimed Mr. Ouattara the winner of the Nov. 28 runoff election. The vote count itself shows that Ouattara won with an 8 percent point margin.
Mr. Gbagbo clings to his office mainly through the loyalty of his powerful southern-based party, and through the country's army. The radio and TV stations he controls have been accused of inciting hatred and violence against Ouattara's party and ethnic group, and against the UN.
African Union mediators have come and gone, but the crisis continues.
---