Is the opposition giving up in Uganda?
(Read article summary)
Uganda President Museveni's grip on power seems so strong ahead of the upcoming presidential election that an opposition candidate is considering pulling out of the race.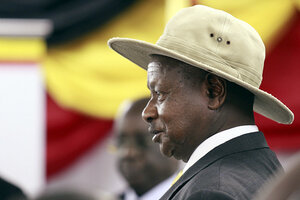 James Akena/Reuters
Next month, Uganda is having a presidential election – or, depending on your viewpoint, a mini-re-coronation.The Economist last fall called Museveni a "king by acclamation," and not just because he's been around forever, has a lot of houses, and puts his family in charge of most major posts. The magazine's Africa folks blogged, "Mr. Museveni has been careful to prevent any younger candidates building up a power base that could challenge him. He appears determined to stay until 2016, even if it means dividing his party, alienating military commanders, and arresting opposition leaders such as Olaru Otunnu, who used to work for the United Nations."
The word on the street is that most people think Museveni's around to stay. In fact, a new poll – billed by the government-friendly New Vision as an "opposition poll" – put Museveni's likely support at 66 percent (or 67, depending on where in the article you're reading). That's far above his closest competitor, Kizza Besigye (19 percent).
This, of course, doesn't inspire any politician much, except perhaps Museveni. Today, Besigye said that his party might pull out of the poll. The Southern African Press Association (SAPA) reports:
"If it is clear to us that this election is a completely hopeless process, we could still pull out at any time," presidential candidate Kizza Besigye said on Monday while recording a televised electoral debate.
---