As Ivory Coast stalemate worsens, so do the chances of military intervention
(Read article summary)
Although the West African regional body, ECOWAS, has threatened to use force to remove incumbent President Laurent Gbabgo, nobody wants to ignite a second civil war in Ivory Coast.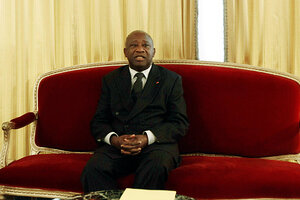 Thierry Gouegnon/Reuters
At least 247 people have died since Ivory Coast's Nov. 28 election, which was supposed to end a 12 year conflict in the world's top cocoa producer. At least 49 people have disappeared, and those whisked away to secret prisons may number in the hundreds.
Those are the latest numbers from a United Nations mission that has been firebombed, shot at, and increasingly understood as an occupying army by defenders of Laurent Gbagbo, the renegade president who has escalated his refusal to concede electoral defeat into a once-in-a-generation-battle for the sovereignty of this former French colony.
And last week, the UN announced from Geneva that its agents have caught word of – but been blocked from visiting – a third mass grave, this one stuffed with 80 bodies buried less than 50 miles from the Liberian border; a line that 25,000 everyday Ivoirians have crossed since November, searching for a country where sporadically violent house searches, attacks on UN convoys, and tire-fire road blocks manned by gun-waving extortionists aren't the new norm.
"The question now being discussed within the UN is the urgency of military intervention, not only to protect UN peacekeepers," said UN High Commissioner for Human Rights Navi Pillay, who tried Rwandan war criminals in the 1990s.
---