AQIM, kidnapping, and murder: a brief history
(Read article summary)
Guest blogger Alex Thurston rounds up information on kidnappings and murders of Americans and Europeans by Al Qaeda in the Islamic Maghreb (AQIM) in Africa's Sahel region.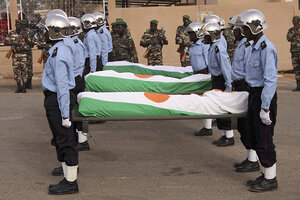 Reuters
Over the long weekend I entered into a conversation/debate with a few folks on Twitter, including Andrew Lebovich, Xavier Rauscher, and itsme_leclerc, concerning the pros and cons of ransom payments and armed rescues in Sahelian hostage crises. Feeling constrained by Twitter's character limit, I started to write up my thoughts on different ways to prevent or resolve the ransoms vs. rescues dilemma. But then I realized it would be good to write a background piece laying out the key kidnapping incidents in the Sahel from 2007 (AQIM's official birthdate) to the present. With that background in place, I hope to write a piece later in the week going deeper into the key issues.
---
Follow Stories Like This
Get the Monitor stories you care about delivered to your inbox.