Congo's Kabila revises Constitution: presidential candidates now only need a plurality
(Read article summary)
Congolese President Joseph Kabila altered Congo's election laws, eliminating the run-off system and allowing the candidate with a plurality to claim the presidency.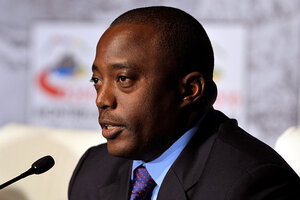 Dominic Favre/AP
Goma, Democratic Republic of Congo
President Kabila's successful effort to revise the electoral law in the Congolese constitution last week sparked controversy, prompting opposition and human rights groups to warn that the changes are a threat to national unity. Kabila's controversial move marks the start of what is likely to be a tumultuous period leading up to the vote in November 2011 and underscores the need for international attention and involvement.
Congo's constitution is the product of peace talks in Sun City, South Africa in 2002 and a constitutional review process underway since in 2006. Referencing the Sun City talks, Vital Kamerhe, former Congolese National Assembly president and now president of the opposition party the Union for the Congolese Nation, said, "We were in war and we battled hard with the help of regional leaders and the international community, and we were able to reconcile. Only four years after the first mandate, one can't just decide the constitution review without taking the risk of compromising the national unity."
The constitutional changes enacted by Kabila eliminate the multi-round run-off vote system used during the 2006 elections. Under the new procedure, the candidate with the largest percentage of votes – even if that proportion is less than 50 percent – would win the seat.
---