Sudan referendum votes reveal landslide support for independence
(Read article summary)
The overwhelming vote for independence in South Sudan's referendum could help unify the South Sudanese as they begin the process of nation building.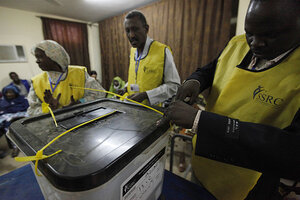 Nasser Nasser/AP
In the time I've been reading about Sudan's referendum on Southern secession, I have never seen anyone predict that the South would vote for continued unity with the North. In other words, it is no surprise that now the referendum has ended, polling and provisional results are showing a landslide vote for independence. Still, it is useful to look at the early figures: one thing they reveal is a relatively uniform distribution of support for independence across the South.
Reuters asked for estimated figures from Southern Sudanese officials (see a slightly different version here), and received responses in almost all of the South's ten states. Estimates topped 80 percent in Unity (also known as Western Upper Nile), 90 percent in Central Equatoria (where Juba is located), and 95 percent in Western Bahr al-Ghazal. The estimated tally (sometimes based on incomplete results) approached 99 percent in Upper Nile, Northern Bahr al-Ghazal, Warrap, Jonglei, Eastern Equatoria, and Lakes. Reuters did not obtain results from Western Equatoria.
---