With South Sudan's referendum, which US president gets the credit?
(Read article summary)
Members of President Bush's Africa team have steadily criticized President Obama's administration's approach to Sudan, even as the referendum appears to be unfolding peacefully.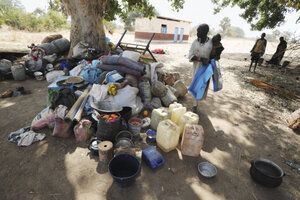 Paul Banks/Reuters
The credible and relatively peaceful referendum that took place last week in South Sudan would seem to vindicate the current US administration's Sudan policy of the past two years. Yet members of President George W. Bush's Africa team, who have steadily criticized President Barack Obama on Sudan since 2009, continue to raise concerns about the White House's approach. At stake in this debate are the nature of US policy in Africa and the apportioning of credit in what is arguably the greatest American diplomatic triumph since the 1990s.
Bush and other architects of the Comprehensive Peace Agreement of 2005 (CPA), which ended decades of civil war in Sudan and laid plans for the referendum, initially envisioned a smooth transition to Obama with regard to Sudan. Immediately after Obama took office, one Bush appointee, former US Senator and Special Envoy to Sudan John Danforth wrote encouragingly, "The Obama administration can help to finish the work we started. The US can help save the peace agreement."
---