The politics of being really, really rich
(Read article summary)
A recent article in The Atlantic about the world's super rich makes it clear that it's an interest in humanity binds the poor to the rich.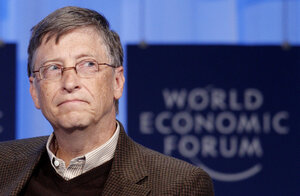 Christian Hartmann/Reuters
In an article for The Atlantic, Chrystia Freeland talks about the new super elite and how America (and perhaps the world) may already be a plutonomy, where "the rich display outsize political influence, narrowly self-interested motives, and a casual indifference to anyone outside their own rarefied economic bubble." While not entirely convinced on the later two parts of that statement (blame the eternal rose tinge of the optimist's mind), the first is certainly true. The rich the world over do hold a disproportionate amount of political sway. If a plutonomy is indeed the current (or near-future) state of global politics, herein lies the rub: it renders untrue one of the core arguments in the fight for social justice and equality, that the fate of the rich is inextricably linked to that of the poor.
An economic apartheid
It is estimated that the American 2010 midterm elections cost $4 billion. That's a mind-numbing sum to you and me but for the super rich, the ones who in Ms. Freeland's article say (with no hint of irony) "20 [million] is really 10 after taxes," $4 billion is a half-a-day's work.
---