Five challenges South Sudan will face after referendum
(Read article summary)
Although some results from South Sudan's referendum still need to be made official, Sudanese and international observers are beginning to look ahead to what comes with independence.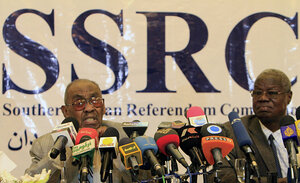 Mohamed Nureldin Abdallah/Reuters
Attention is turning from South Sudan's referendum on independence, which yielded a nearly unanimous "yes" vote, to South's Sudan's future. Here are five challenges the new country will face:
1. Borders
Even though North Sudan appears resigned to the South's secession, the two countries will still have to agree on the precise border that divides them. One major piece of that puzzle is Abyei, an oil-rich region that was supposed to hold its own referendum and decide whether it would secede along with the South or remain with the North. Due to disagreements between North and South Sudanese leaders, Abyei's referendum was postponed indefinitely. Verbal and physical conflict in Abyei (between the largely pro-secession Ngok Dinka farmers and the largely pro-unity Misseriya Arab pastoralists) punctuated the voting earlier this month.
Now that the voting is over, Abyei remains a "potential tinderbox."
On the southern side, the secretary general of the ruling party, the Southern People's Liberation Movement (SPLM), Pagan Amum, has said that if the Abyei referendum is not conducted, the only remaining option is for Abyei to be transferred to the south by presidential decree. On the northern side, Sudanese President Omar al-Bashir has said he will not accept Abyei being part of the south.
---